Test Peugeot 508 GT Line 1.5 BlueHDi 130 hp Auto (video)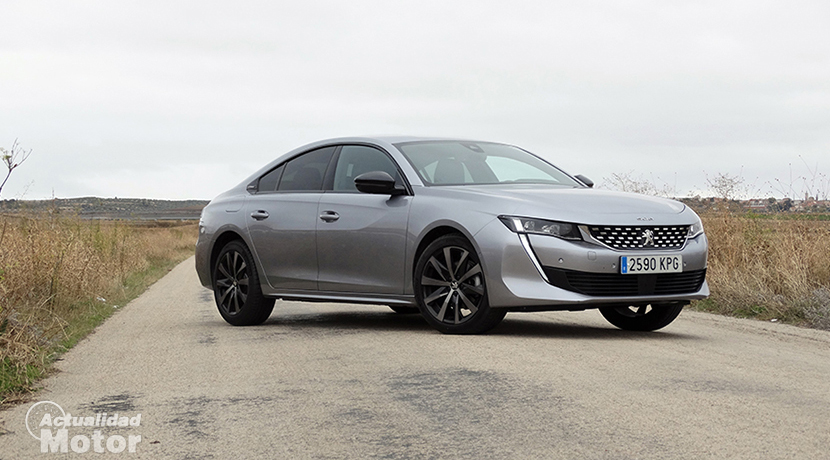 Although SUVs and crossovers are falling ostensibly the sales of traditional sedans, those of segment D , some brands have decided to give a new opportunity to this category. To generate a greater "appetite" are introducing important changes, betting on a much more sporty and youthful aesthetic than we had been accustomed this segment.
Today we bring you to the new Peugeot 508 , a model that has received a brutal change compared to its predecessor. We have more technology, more dynamism and, as you can see, a much more attractive and stylized design than before. This time we tested the Peugeot 508 with BlueHDi engine 130 hp diesel and automatic transmission , in this unit that is also associated with the GT Line sport finish .
​​An elegant, sporty and distinctive exterior
The new Peugeot 508 seeks to reach his clients entering through the eyes, and the truth is that he is getting it, because his design does not leave anyone indifferent . It takes very little time in the market and people pay close attention to it, as we have seen during these days. C'mon, that's pretty "tronchacuellos".
I do not want to extend too much in this section because you are already seeing it with your own eyes, but the most characteristic element of the frontal are these dynamic LED headlights and the long and thin vertical daytime running lights that, according to Peugeot, they try to simulate the fangs of a lion. As a curiosity, the name of the model, "508", also appears in the front.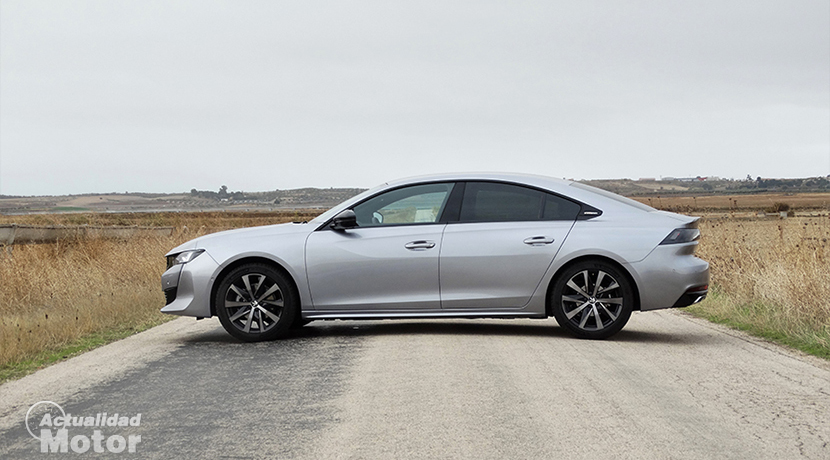 Normally, every time the marks make a generational change, they tend to increase the length by a few cm. Curiously, it is not the case of the new 508, which is now a little shorter and shorter than its predecessor, although it gains a few cm in width. It measures 4.75 meters long , 1.84 meters wide and 1.40 meters high. His battle has been reduced slightly and is now 2.79 meters.
The side view is also eye-catching, with a low body and a silhouette very smooth and elaborate , with a certain coupe air , which allows you to obtain a Cx of only 0.26, which helps significantly reduce emissions and consumption. I like how it ends at the edge of the gate, creating a spoiler shape on the edge of it. There are six tire designs that range from 16 to 19 inches. Also note that the doors do not have a top frame.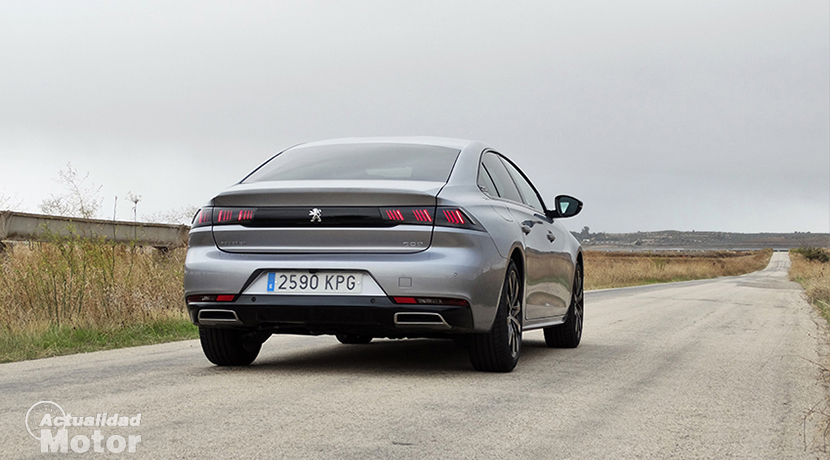 In the rear highlights the design of its lights pilots, using the three claws in the lighting, as well as the black molding that joins them. The loading mouth of the trunk is sufficiently wide and is not very high. In this finish, a glossy black "diffuser" with two trapezoidal simulated escapements is used, although in the GT finish they are real.
With an innovative interior and technological
The latest Peugeot models are using a very characteristic and daring design. As usual, in the new Peugeot 508 we also have the driving position i-Cockpit , with a tiny steering wheel and an instrument panel that is displayed above.I have to modify it slightly and drive with the seat somewhat higher than I would like.
As a curiosity, we have a night vision system that is projected in the frame when we do so we want it It provides extra security during the night or in low visibility conditions because it is capable of recognizing people and large animals over 200 meters.
For its part, the > Main screen for the infotainment system is located in the center of the dashboard. It is 10 inches and has a correct resolution, although I think the menus could be a little better structured and their fluency could be higher.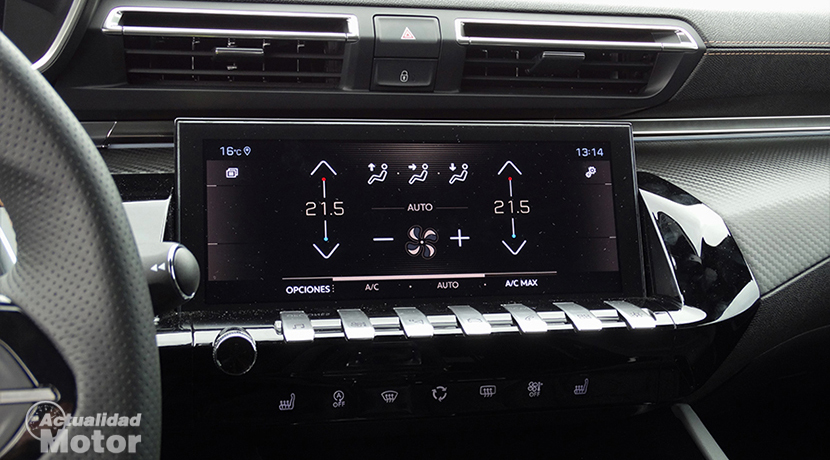 Of course, one thing that I do not like at all about this infotainment system is that, despite having here several physical push buttons to change of menu, the climate control is done in a tactile way. Why? Well I do not know, but this forces us to look away from the road. With how easy it would be to use the traditional and effective roulettes of a lifetime ...
In this lower part we find the center console, which is quite bulky and, very much to my regret, use the always dirty piano black finish that is impossible to keep clean. Below this, we have a not too accessible hole with USB sockets and a wireless charging surface. I think that, although it is very elegant, you could have looked for another alternative to optimize more space.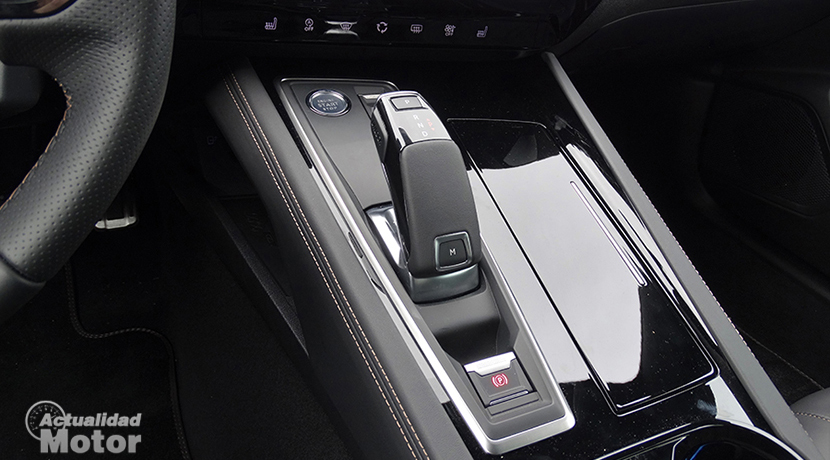 Regarding the finishes and materials used, they are quite good in most cases and combine very well with the overall design of the car. The perceived quality is very high in the dashboard and door trim. Of course, the satellite control for cruise control and speed limiter seems inherited from the Peugeot 307, with a rough touch. We can highlight for the fixed cams for the change in the steering column with a good finish and correct size.
Not as spacious as the previous, but quite correct
The previous Peugeot 508 was characterized by offering a huge passenger compartment, where four adults of large size could travel without space problems. By design and dimensions, the interior habitability has been slightly reduced . In the front seats we still have a lot of space, although the feeling is that the large center console reduces the width for the front seats. In any case, they are still good. Let's go to the rear.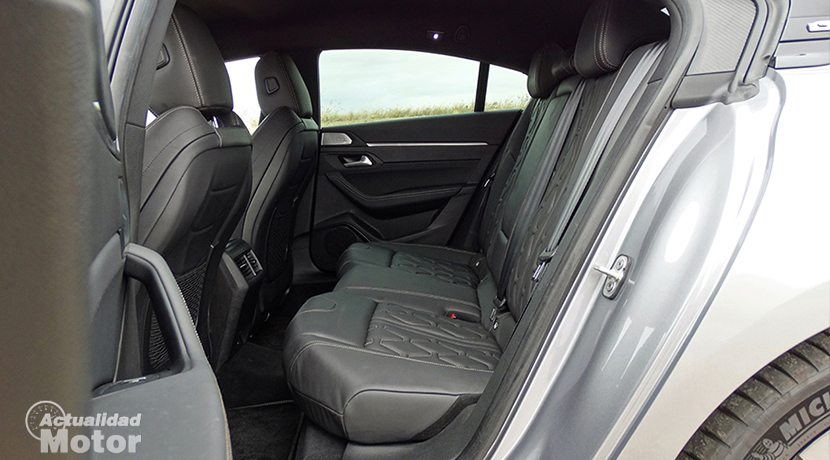 Although the access to the rear seats is not very bad, it is not less true that we must be a little careful. On the one hand, because, especially the first few times, we can hit with the fixed glass door at chest height (me and another companion happened to us) and, on the other, because The low height of the car at this point is easy to hit the head at the top edge . These are the disadvantages of playing with a roof drop that starts very early to get a nice exterior aesthetic.
Once inside, the space is more than good for the legs , even if the passenger traveling in front of us is tall.The side seats are very comfortable and nice; while the central one, as usual, leaves something to be desired. Note that we have an armrest with access hatch to the trunk, air vents, two USB outlets and bags in the front seats to store the newspaper.
Loses capacity of the boot, but gains in practicality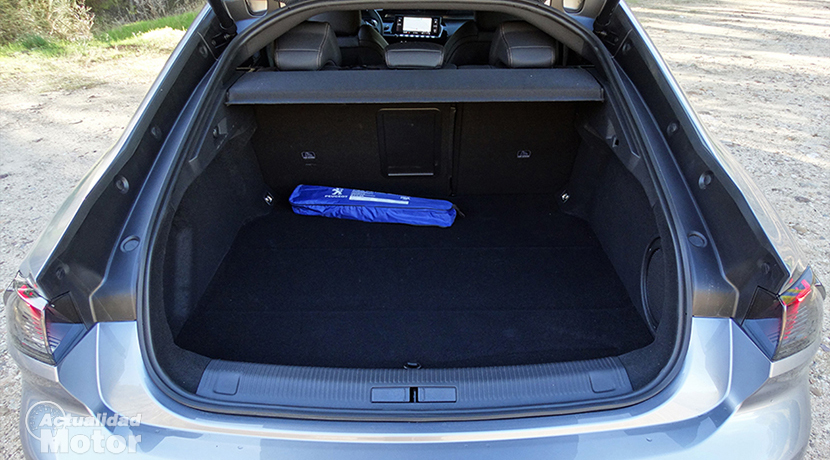 Another important change is discovered when opening the trunk . Unlike the previous model, this new 508 is 5 doors, with a large gate that facilitates the loading and download objects. It has lost a bit of volume, now covering a total of 487 liters , but it gains a lot of practicality. In any case, it is somewhat below the segment average. We can expand the capacity to 1,537 liters if we fold the seats, but the floor is not completely flush and we do not have handles in the trunk to do it "at a distance".
Offer of engines and finishes
Speaking of its mechanical offer, the new Peugeot 508 is available with two gasoline engines and three diesel . The gasoline range uses the block 1.6 PureTech in 180 and 225 HP versions. For its part, the diesel family uses the new engine 1.5 BlueHDi for mechanics of 130 hp, and 2 liters for the versions of 160 and 180 hp. All come with the automatic gearbox EAT8, with the exception of the 130 diesel that can be purchased with manual transmission.
The French brand has already confirmed that in a few months will be incorporated a Hybrid plug-in version to the range.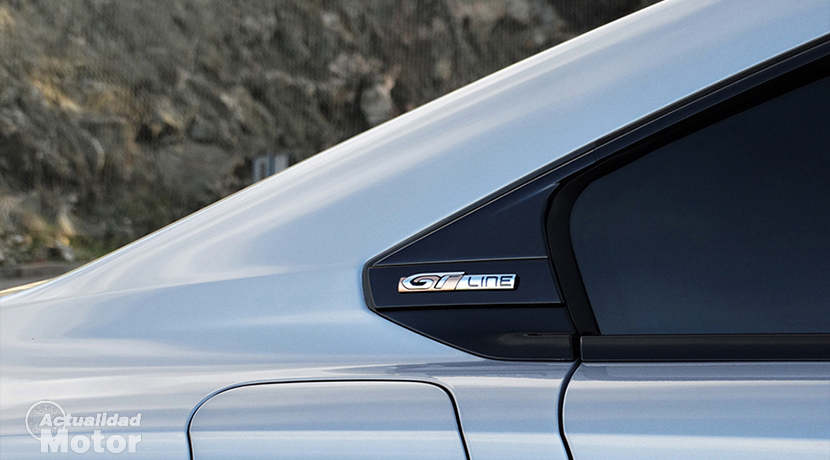 Por On the other hand, we find four finishing levels , which are ordered from lesser to better equipment and respond to the names of Active, Allure, GT Line and GT . For companies and professionals there is another finish that is called Business Line . Our unit is configured with the GT Line finish and the 130 hp BlueHDi engine with automatic transmission.
1.5 BlueHDi engine 130 hp
Focusing already on the unit tested, as we said, has the engine diesel 1.5 BlueHDi 130 hp and automatic box . It is a four-cylinder 16-valve and supercharger that develops its 130 HP to 3,750 turns and a maximum torque of 300 Nm from 1,750 rpm . It promises a maximum speed of 210 km/h and a 0 to 100 in 10 exact seconds. Regarding the homologated consumption, we found a mixed 3.7 l/100 km in the WLTP cycle. And now, We start and see how it goes .
At the wheel
The new Peugeot 508 has not lost a bit of comfort that transmitted to us the previous model in freeway, but adding in addition a touch of sportsmanship, something of which its predecessor lacked. He has achieved a great balance. The suspension absorbs the bumps very well, but also does not allow large inclinations of the body when we draw curves at a good pace. And that our unit does not have the adaptive chassis.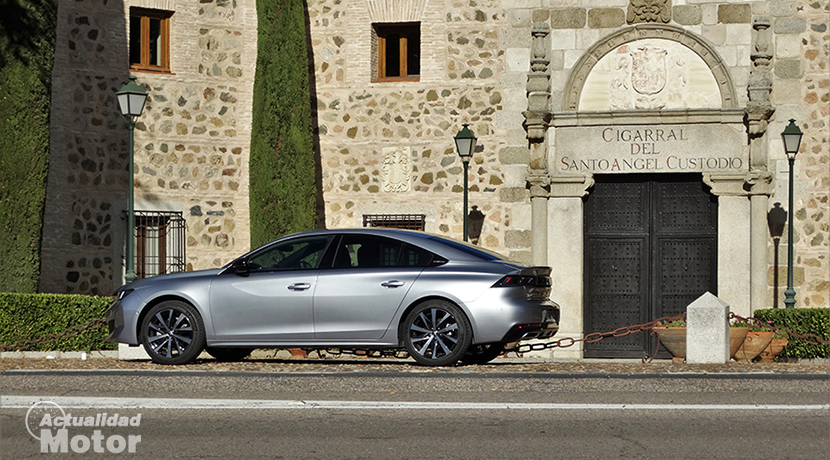 I think a good part of that sporty feeling has been achieved thanks to its suspension, but also to its address .To these greater sensations the driving position helps, because we can go with the legs well stretched. On the other hand, we also have several driving modes that vary the behavior of the car.
Obviously, the 130 hp diesel engine is not the panacea if we want to practice a sporty driving, but in normal marches it is enough to be able to perform motorway incorporations or overtaking in secondary schools with relative ease. Less I like his sonority, because, especially in cold, is let notice in the cockpit. The soundproofing of rolling and aerodynamics is correct.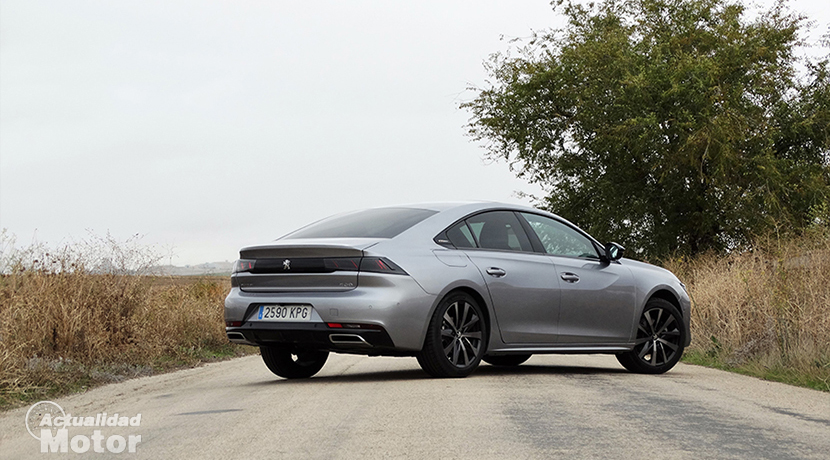 As I told you before, the Peugeot 508 bets on the 8-speed automatic transmission in almost all its versions, which I think is quite logical in a car of this approach. Its operation, at least in this version of 130 HP, is proving to be fairly smooth in gear changes, without hardly realizing when they are made, and also very easy to control in parking maneuvers. It does not stand out for its exceptional speed, but fulfills its function satisfactorily
One of the problems that arise in this type of coupe-style body is that visibility towards back decreases, both in the interior rear view mirror and if we turn our heads to look through the rear windows, because the rear pillar is quite robust. We will notice this in certain circumstances in the city and also on roads with more than one lane in each direction.
Consumptions and conclusions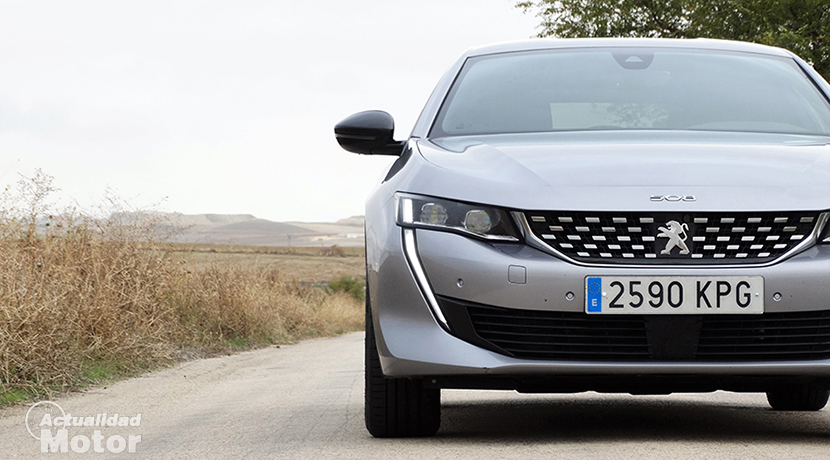 It's time to leave saying goodbye, but not before talking about the > Consumptions obtained and to draw conclusions as a summary. During our test it has been rare to see more than 6 l/100 km of consumption in the table, being normal to find around 5 and 5.5 liters. Strolling goes up a little, logically, but nothing crazy. Traveling by motorway at a normal pace we have always moved around the 5 liters , a couple of tenths above or below.
As Positive points would highlight the boldness in its design, both exterior and interior. It is a very personal car and it shows itself very sure of itself. I recognize that I like this kind of silhouettes. I have also found your fuel consumption, comfort on the motorway and the clear increase in sportsmanship very good.
View this post on Instagram

With this lighting game, thanks to the Full LED lighting, we receive the new Peugeot 508. What do you think?I do not like that the center console is so wide or the piano black finishes.

The Peugeot 508 more accessible part of the 27,250 euros without discounts.